Create a unique celebration card using mixed media and digital
From £20
Description
What you will get from taking this workshop:  
An understanding of how to work with gouache in an efficient way.

 

Tips and techniques on how to integrate human traits within representations of animals to create lovable characters.

 

An opportunity to experiment with colour combinations and composition.

 

The chance to use hand lettering for your design.

 

Elephant Academy Takeaway Technique: Learn how to create a design for a uniquely personalised celebration card in Adobe InDesign.

 
Create a handmade unique celebration card in this fun and playful workshop by Dutch illustrator Aniek Bartels. During the two-hour session Aniek will guide you through integrating human traits into representations of animals in order to create lovable anthropomorphised characters. Learn how to use gouache in an efficient way and how to use hand lettering for your design. You will have the opportunity to practice with paint to create striking colour combinations and compositions, before processing your work through the Adobe's InDesign layout software. By the end of the workshop, you will be able to create your own handmade cards that can be turned into birth announcements, name cards or a celebration card. 
Aniek Bartels is a Dutch illustrator known for her quirky designs and penchant for animals and nature. From dancing crabs to tigers wearing daisy glasses and a bear riding a skateboard, she creates a playful and uplifting imaginary world. Working with brands including Lazzari, Hema, Flow Magazine, Paper & Cloth and Bliss Kids, she makes use of watercolours, pencils, markers, paper and even clay, along with with digital tools, to bring her creations to life.  
Materials bundle includes: 
What is a workshop?
An Elephant Academy Workshop is a one-off overview of an artistic theme or medium. Over an online session, students work with a tutor to learn new techniques and develop their artistic skills in a relaxed and friendly environment.
BROWSE WORKSHOPS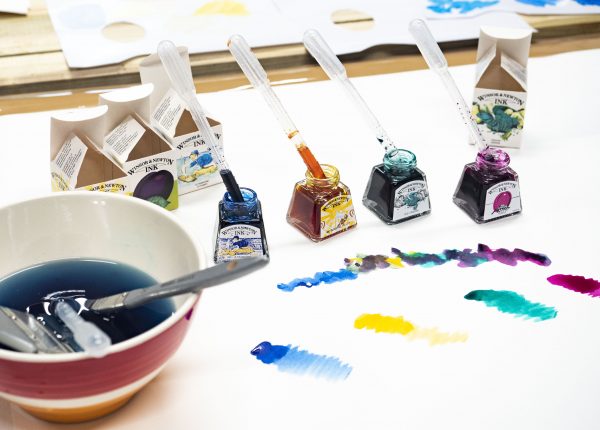 FREQUENTLY ASKED QUESTIONS:
Do I need to have any experience to take part in an Elephant Academy class? Absolutely not! We warmly welcome everyone and have classes and activities for all levels, including those who have never picked up a paintbrush or pencil before. All classes are friendly, supportive and fun!
How do I join the online class once I have purchased? You will be sent a Zoom link via email the week before your class. The email will have full instructions on how to join and tips on how to set up your workspace.
I don't live in the UK – can I still join one of the classes? Absolutely! We welcome students from all over the world and many of our classes are held at times to suit students in Europe and North America.
Is there a recording I can watch after the class? Yes, we can supply recordings to allow you to develop your skills and revisit the classes.