Fabulous Creatures – Painting in acrylics
From £135
Description
 What you will get from taking this workshop:  
An awareness of the rich variety of animals and beasts depicted in the history of art throughout the centuries 

 

Advice on how to create your own imaginary creatures and represent them on the page using acrylic paint

 

A new understanding of specialist techniques for depicting body structure, skeletal form, skin, scales, fur, horns and more 

 

Elephant Academy Takeaway Technique: Learn how to adapt folklore and mythical stories into skillful imagery of animals and fantastical creatures

 
In this six-week acrylic painting course students will be introduced to the rich world of fabulous beasts with artist Liane Lang. Over the course of these sessions, they will look at the depiction of animals and beings in folklore and art history, exploring their symbolism and their mystery. From mythical creatures such as the sphinx and unicorn to the animals of the real world, students will delve into their unique characteristics and experiment with their place in the creation of narrative and composition.  
Students will be invited to paint unusual and inventive animal subjects using acrylic paint on canvas, learning how to construct and depict body structure, skeletal form, skin, scales and fur, horns and fangs. There will be step-by-step instructions , but students can also create their own original compositions in response to a series of taught themes and techniques. They will be taught to unlock the power of paint in creating wild and playful representations of creatures and animals, bringing them vividly to life upon the page. 
Liane Lang is a London-based artist who studied at the National College of Art and Design in Dublin and completed a BA in Fine Art at Goldsmiths College, London followed by an MFA at the Royal Academy Schools, London, where she graduated in 2006. She has exhibited widely both in the UK and internationally. She won the Photofusion Award, the Tooth Travel Award at Goldsmiths College and the Cheneviere Prize at the Royal Academy Schools.  
Materials bundle includes: 
What is a course?
An Elephant Academy course is a sustained series of online classes that focus on a specific medium or artistic reference. Students work closely with a tutor to develop their skills, discover contextual art themes, and produce unique artworks.
BROWSE COURSES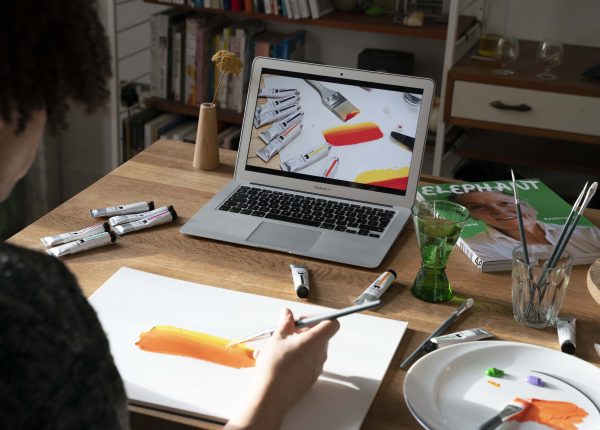 FREQUENTLY ASKED QUESTIONS:
Do I need to have any experience to take part in an Elephant Academy class? Absolutely not! We warmly welcome everyone and have classes and activities for all levels, including those who have never picked up a paintbrush or pencil before. All classes are friendly, supportive and fun!
How do I join the online class once I have purchased? You will be sent a Zoom link via email the week before your class. The email will have full instructions on how to join and tips on how to set up your workspace.
I don't live in the UK – can I still join one of the classes? Absolutely! We welcome students from all over the world and many of our classes are held at times to suit students in Europe and North America.
Is there a recording I can watch after the class? Yes, we can supply recordings to allow you to develop your skills and revisit the classes.