Sale!
Acrylic painting for beginners
£28 – £50

Description
What you will get from taking this online workshop: 
An exploration of different techniques of acrylic painting including colour theory, mediums, and mark-making

Lessons in how to correctly set up your workstation for acrylic painting

 

An understanding of the contextual history of acrylic paint and how acrylic paint has been used over time by modern and contemporary artists

 

An acrylic painting created by the student with artistic guidance

 

Elephant Academy technique takeaway: learn how to experiment with colour using acrylic paint
In this two-hour class, Maddie Yuille will introduce the basic techniques of acrylic painting in a fun and supportive environment. Students will have the opportunity to learn how to work with the acrylic medium and gain confidence in their painting skills. Under Maddie's guidance, they will produce an acrylic painting from a reference image of choice.  
At the start of the class, Maddie will provide an overview of the history of acrylic painting. She will explore why acrylic paint was created, discuss how artists have used acrylic paint throughout art history and answer the question of why acrylic paint is still a significant medium for artists today. Students will then be taught the more technical aspects of acrylic painting such as workstation set up, colour mixing and canvas preparation. Students will be encouraged to experiment with their artistic style, through warm-up exercises on colour theory, mark making and working with white paint. Taking both the historical and technical skills of acrylic painting on board, students will work towards producing their own acrylic painting by the end of the workshop.  
Materials bundle includes: 
What is a workshop?
An Elephant Academy Workshop is a one-off overview of an artistic theme or medium. Over an online session, students work with a tutor to learn new techniques and develop their artistic skills in a relaxed and friendly environment.
BROWSE WORKSHOPS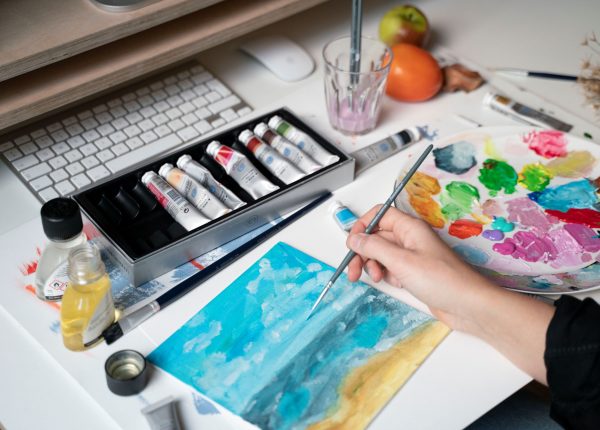 FREQUENTLY ASKED QUESTIONS:
Do I need to have any experience to take part in an Elephant Academy class? Absolutely not! We warmly welcome everyone and have classes and activities for all levels, including those who have never picked up a paintbrush or pencil before. All classes are friendly, supportive and fun!
How do I join the online class once I have purchased? You will be sent a Zoom link via email the week before your class. The email will have full instructions on how to join and tips on how to set up your workspace.
I don't live in the UK – can I still join one of the classes? Absolutely! We welcome students from all over the world and many of our classes are held at times to suit students in Europe and North America.
Is there a recording I can watch after the class? Yes, we can supply recordings to allow you to develop your skills and revisit the classes.